A plague is upon us. Shall we make a virtue out of necessity?
Snark is, next to laziness and general incompetence, my stock in trade, cf. this blog (and the previous one) in post after post after post. But there's not really all that much to mock or deprecate or even gently poke fun at in the face of a global pandemic and the unknown economic cost to come.
Better then to celebrate grit and determination and optimism in the face of adversity, which is exactly what ODTUG has done with a brilliant concept: the ODTUG Learn From Home Series. If the world+dog cannot come to Kscope20, then Kscope20 will come to you. For free. Really.
Click on the below graphic that I shamelessly stole from ODTUG's website to begin your registration: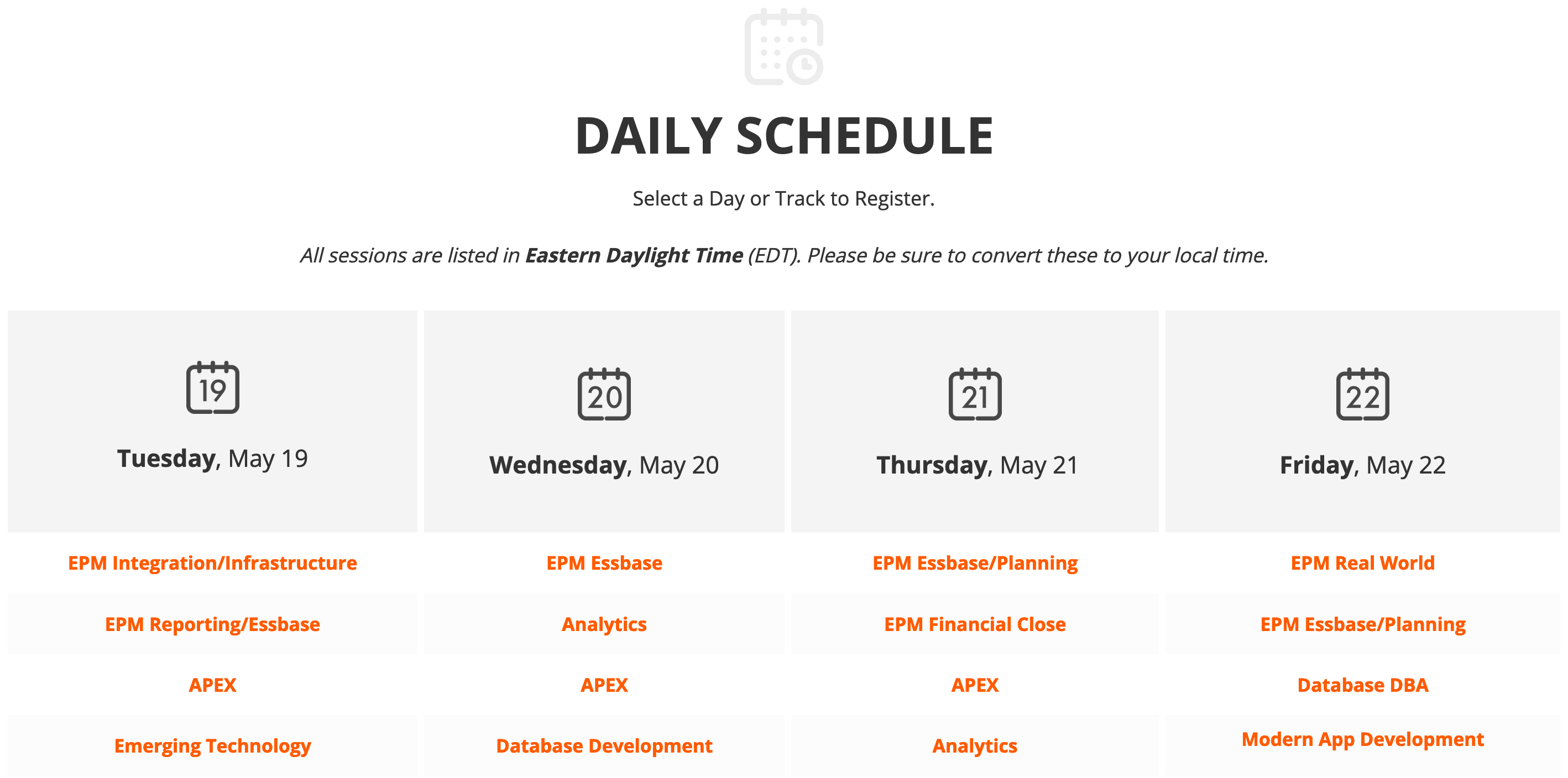 I can't write this better than ODTUG (cf. laziness).
We are excited to announce the Free ODTUG Learn from Home Series taking place May 19 – May 22. Get ready for four days packed with over 90 sessions plus mini Oracle symposiums—all covering a range of Oracle-related topics to keep you on the cutting edge of the latest technology.
The ODTUG Learn from Home Series will be free flowing. When you register for a session room, you will be able to come and go throughout the day as you please. There will be a separate registration for each room per day, and you can register for multiple rooms if you'd like. View the event schedule below. *Schedule subject to change
We want everyone to have the opportunity to engage, so feel free to connect with each other over Twitter by using the hashtag assigned to your room. Get your questions answered or just say hey to your fellow attendees!
There are twelve tracks across those four days. That equals more than 100 (Gentle Reader, do not sue me if I've got that count wrong – it's almost midnight and I've been working on my presentation all day long and also double, treble, etc. counting on my fingers is beyond my very limited abilties) sessions. For free. Think about that. And read the abstracts – this is Kscope20, in your house (there cannot be many of you in an office), for free. Think about that. Who else could do this? Who else would do this? Who has?
Oh yeah, the stuff I'm doing
Despite the fact that I'm copresenting or am a panelist on these two sessions, these sessions are worth attending.
What now, Essbase?
Wednesday, 20 May 12:00 to 12:45 pm
ODTUG Supremo Tim German, Qubix and Yr. Mst. Hmbl. & Obt. Svt.
Essbase has seen engines, features, owners, use cases, and technology fashions come and go and yet Essbase abides. But now Essbase faces an identity crisis: will it (and should it) remain a standalone platform as Essbase 19c or become subsumed within a larger product as Free-Form Enterprise Planning? Customers face the same scenario: does Essbase as Essbase still make sense? Join Planning fanatic Cameron Lackpour and Essbase zealot Tim German as they try to tease out what Essbase was, is, and what it will be to you via use cases, benchmarks, and a no-holds-barred ranking.
NB – I have almost convinced Tim that Free Form Planning aka Essbase SaaS is The Shape of Things to Come but that's a febrile (not really in this Time of Plague) thought at literally the stroke of midnight.
The Changing Landscape of EPM
Friday, May 22 | 4:00 – 4:45 p.m.
Natalie Delemar, PWC, John Booth, Spaulding Ridge, Patrick Cronan, American Partners, Yours Truly
In this panel discussion, industry and consulting experts explore product and employment trends in the wonderful world of EPM. Impacts of cloud, automation, acquisitions and new entrants into the market will be discussed and its effect on you as an EPM technologist.
A point: this conversation will be polite. Some people never learnt the adage, "If you have nothing to say, it's best to say nothing at all". I did as have my fellow panelists.
Without peer and without parallel
One could argue that ODTUG had no choice but to have a superb virtual conference given the uncertain world we now live in. I'd posit the opposite: it would have been easy for ODTUG to sit on its laurels, hoard cash, and save content till Kscope21. That's not who ODTUG was and is and will be. Instead they generously (if you think doing all of this for free is – for want of a better word – free, you're not right) reached into a purse that is funded by you, for you. I for one am grateful and excited. You should be as well.