Hah! EPM doesn't get a lot of polymaths, does it. Yet Mike is exactly one of those.
A polymath is, "a person of great and varied learning" although Mike is too modest to agree with that description. If you but listen to this conversation, you (and he) will see that it is a fair characterization.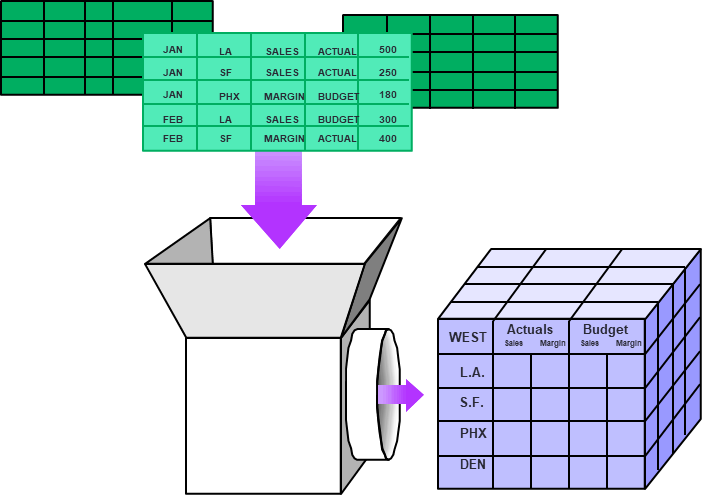 NB – The above graphic isn't for n00bs but instead for veteran EPM practitioners who recognize the graphical genius of the long-gone and much-lamented Arbor Software's training decks. Mike has several ties to this as you'll hear.
But wait, there's more
In addition to Yr. Obt. Svt., this conversation also has Natalie Delemar as our guest host and regular John Booth. This varying cast of characters is what I hope is the (or at least a) future of EPM Conversations. Tim, Celvin, John, and I are wonderful (ahem) hosts but there's much, much, much more to EPM than us, cf. our guests and Natalie.
I've known (at least I was at the same conference although as I really and truly worked 100 hours that week in addition to presenting and working a booth so if I did meet Mike I have no recollection of it) Mike since Kscope 2009 in Carmel.
What I didn't know was how much Mike has done: Atari 600xl owner, COMPUTE! magazine subscriber, English school teacher, roofing product computer operator/developer, operations management, Hyperion course writer, Essbase consultant, Planning consultant, Essbase PM, Big 4 consultant, startup analytics evangelist, Big 4 (but a different one) leader, and I'm sure a few more roles I've missed. What is crucial to understand and what is central to what Mike does and cares about is making sense of data, i.e. analytics.
Hear the conversation
Start – 2:55 Introduction
02:55 – 14:56 How Mike Started with Analytics and EPM
14:56 – 25:41 EPM vs Analytics
25:41 – 28:05 Adoption of Tools in Different Organizational Functions
28:05 – 36:04 Tools That Can Merge Financial and Operational Datasets
36:04 – 43:44 What EPM Technologists Should Know About Analytics
43:44 – 53:30 The Medium Term Future of Analytics
53:30 – End Outroduction
As always, you can listen on Apple Podcasts, Google Podcasts, Spotify, Amazon, Buzzsprout (our provider), Stitcher, iHeart Radio, TuneIn, Deezer, Overcast, Pocket Casts, Castro, and Castbox.
We hope you like the episode as much as we do. If you do enjoy it, please give us a good rating on the provider of your choice as it both bathes our ever-needy egos and also – and rather more importantly – allows listeners to more easily find us.
Join us, won't you?