Launched on the 30th of September, as of the 8th of October (there is your week) EPM Conversations had 155 downloads across lo our many podcast aggregators: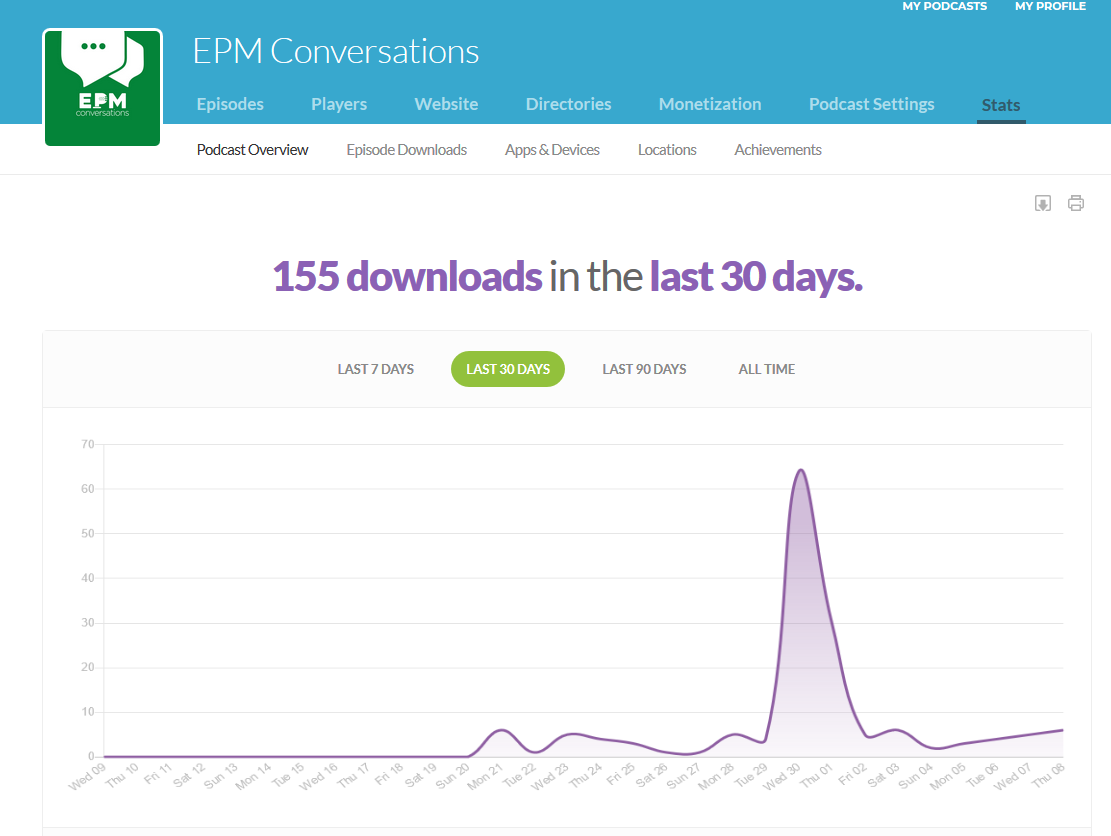 Let me note that, totes obvs, none of this could have ever happened without an audience – that's you. If you haven't listened to us, please do so – it'll be worth your while. If you have, thank you for a podcast is nothing without listeners. EPM Conversations can be a valuable part of our professional EPM world, but only with your participation.
Our first week's global audience seems to be shaping up nicely with a not-everyone-in-the-world-is-a-North-American cast: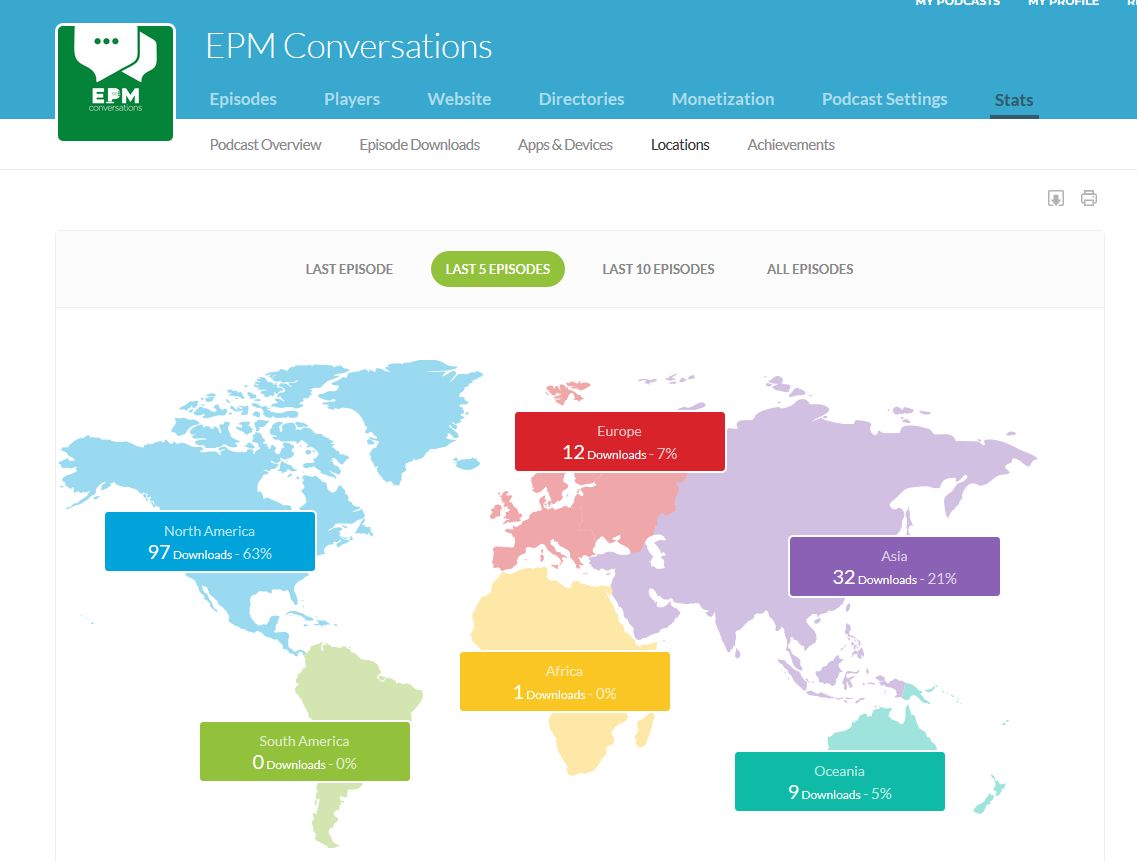 While there is understandable disappointment that neither McMurdo Station nor Dakshin Gangotri nor Halley Research Station are yet among our audience, we are patient. We may need to be.
South America? I actually lived in there as a child although I have to confess there was no internet or (gasp) Celvin or (gasp, again) Tim for that matter when I lived there. There wasn't even any TV. The past is a different country. In any case, I am waiting for my former countrymen (eh, we were expats so host nation?) in Guyana to pick up the slack.
How are you listening to us (Celvin, Tim, and Yr. Obt. Svt.)?
Oh tempora! O mores! O bugger! I forgot to grab this snippet from EPM Conversation's dashboard on the 8th so you're going to have to be satisfied with the info as of the 14th of October: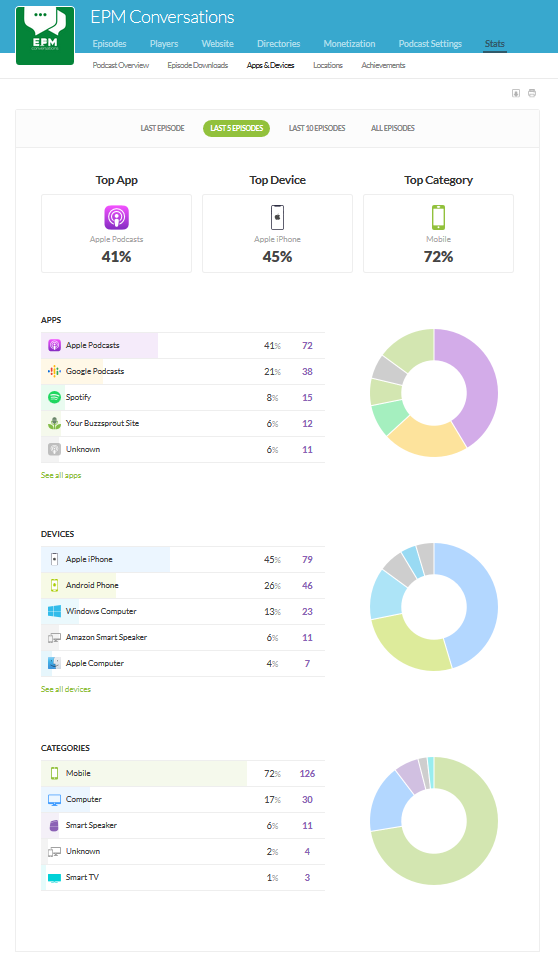 You, Loyal Audience, seem to like your iPhones an awful lot. As someone who started his Apple obsession with a Fat Mac, it is obvious that making Apple richer is my lot in life as is, apparently, yours.
I'm astounded that 17% of the listeners do so on their Mac or Windows box. Perhaps that is the three of us obsessively listening to the podcast to figure out what's right or wrong which is somewhat easier on a computer? Mabe. Me skewing the numbers by purposely hitting play again and again and again? I leave that as a mystery for you.
As for a Smart TV? Really?
The first real guest conversation has been recorded and is now in (OMG, I actually get to write this) post-production. So Hollywood which, upon reflection, is not an attribute often bestowed upon me but there it is.
We have ODTUG Madame President (emeritus) and EPM industry personality Natalie Delemar aka @EssbaseLady joining us for two sessions. Her awesomeness is such that a single conversation (or is that part of a conversation – something like that) cannot do Natalie justice.
Expect it to come out next Tuesday, the 21st of October, 2020.
Join us, won't you?
It needs to be stated again: thank you for listening. If you aren't and are curious (oh, how you could be curious after reading all of the above drivel I can't even begin to contemplate, but maybe) as to how you can, let me provide you a few (ahem) approaches: Apple Podcasts, Google Podcasts, Spotify, Amazon, Buzzsprout (our provider), Stitcher, iHeart Radio, TuneIn, Deezer, Overcast, Pocket Casts, Castro, and Castbox.
Be seeing you.